Donation of a special therapeutic carpet for the early stimulation of the babies of the Hogar Asociación Posada de Belén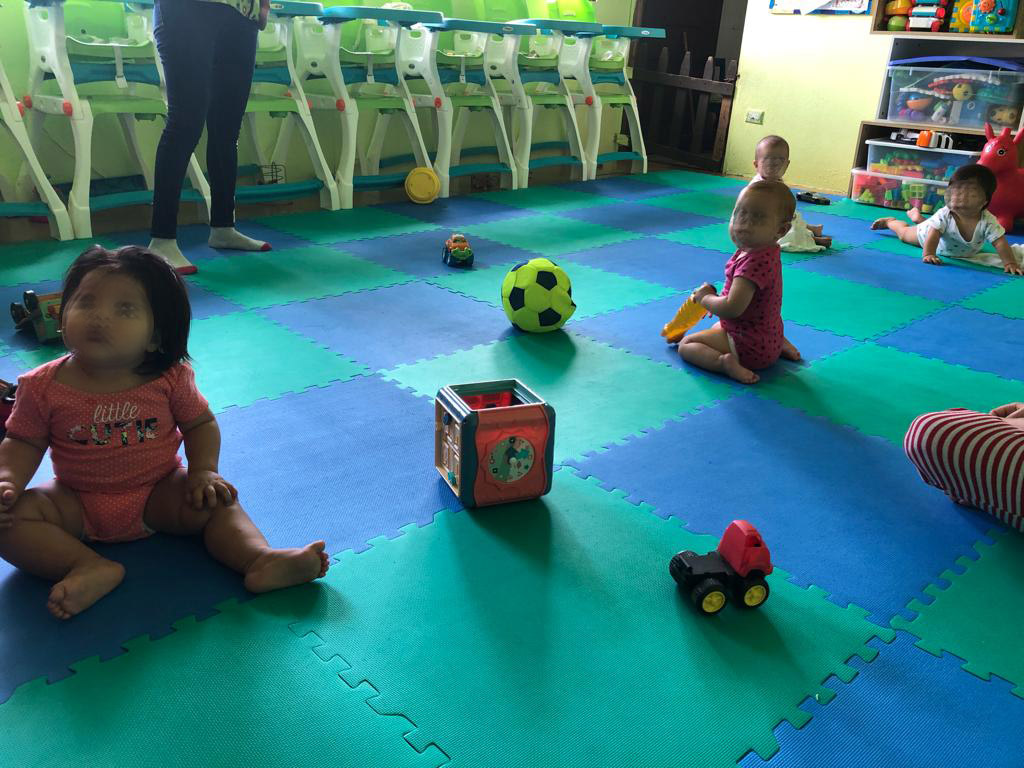 Beneficiary Information:
The Asociación Posada de Belén, Madre Teresa de Calcuta was founded on April 29, 1999 through an agreement with PANI and the Episcopal Conference of Costa Rica, in order to help, protect and care for adolescent girls who are victims of risk situations.
In the Association, the adolescents possess resources that validate their rights as minors, in the following areas
Basic Needs: Covers needs in terms of food, clothing, personal items, among others.
Health Area: Covers needs in the area of health. There is a doctor's office and staff in the area.
Recreation area: Recreational activities are provided, both for the adolescents and their children.
Psychology and social work area: Professionals in the area provide individual therapeutic processes, psycho-educational workshops, legal processes, social assessments and coordination with different entities.
Education area: It has a private educational centre, accredited by the Ministry of Education, where primary and secondary levels are taught.
Training area: They offer training workshops in computers, bakery and beauty, as well as external courses for adolescent girls of seventeen years of age. The above, with the aim of creating secure sources of employment and a satisfactory and adequate reintegration into society for her and her child.
Cradle house area: This area provides care for the children of teenage girls, where they are given a daily environment suitable for their development, where they receive early stimulation, learning and activities appropriate to their age.
DESCRIPTION OF THE PROJECT
Our support is aimed at financing the installation of a carpet for the stimulation therapies of the children of the Asociación Posada de Belén.
The integral attention and care of the babies of the teenage girls is a priority of the association. The early stimulation or care mainly promotes the psychomotor development of the baby, as well as their cognitive development, which is achieved through activities where they have fun and facilitate their future learning.
The special mats for this practice seek multisensory stimulation which allows children to feel different textures and explore different materials thus stimulating a wide coordination, tactile perception, curiosity and imagination, in addition to providing safety and hygiene when performing therapies.
Our objective is to provide the association with this important tool for the enjoyment and practice of this sensory tool for the development and cognitive strengthening of children.
WHO BENEFITS FROM THIS PROJECT?
The work of the Association focuses on the protection of adolescent mothers, in situations of risk and vulnerability, who have been victims of situations such as sexual abuse, domestic violence, extreme poverty and lack of family or community resources.
The profile of the protected population is made up of 60 adolescent mothers aged 12 to 18 years old and their 60 children aged 0 to 6 years. Most of them are pregnant or are already mothers. They have been victims of some risk situation, their rights as minors have been invalidated, the support resources they have are limited, so they must establish their life project based on their own abilities. Their educational level is mostly low, they have a schooling below their chronological age. In addition, due to lack of stimulus and other cultural conditioning factors, they have some learning difficulties.
They do not belong to a specific region; the population is made up of adolescents from all over the country, including foreigners from Nicaragua and Panama. These girls and young women have decided to say Yes to Life and stand by their sons and daughters, exercising their role as mothers at the same time as they live their own adolescence.
The work of the institution is aimed at them as mothers, as part of the economically active population, as members of a society, as healthy people not only physically but also inwardly. And it is also aimed at them as girls and adolescents, empowered to accept their life story and a future that will benefit their development and that of their son or daughter.
The area of early stimulation is of great help and benefit to the babies of these girls, as it will create a positive impact for all of them.
REQUIREMENTS
The following material is required to equip the early stimulation room:
42 AEROSOFT type sheets. Of 60 x 60 cm. 15mm thick. Green color
42 AEROSOFT type sheets. Of 60 x 60 cm. 15mm thick. Blue color
OBJECTIVES OF THE ASSOCIATION
To provide teenage mothers with adequate psychosocial, human, academic and work preparation.
Execute a leading management model in the comprehensive care of adolescent mothers.
To be a guarantor of children's rights.
To build foundations that allow for patterns of response in accordance with the needs of today's Costa Rican society.
To open doors so that the adolescent mother can build a new future for herself, her baby and future generations.
INVESTMENT
The value of the project is USD 950.00 which includes material, labour, and monitoring during implementation.
CONTRIBUTION OF THE BENEFICIARY:
Purchase of the therapeutic mat for early stimulation.
Coordination of installation
Installation supervision
Delivery letter for donation to Asociación Posada de Belén
Who supported?
Tourist clients of ARA Tours who donated to the Selected Moments (SEMO) programme.